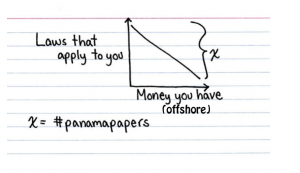 Update: see TJN writer in UK's Prospect Magazine making this general point.
This deliberately provocative headline is of course not fully true: tax is clearly a tremendously important aspect of the Panama papers scandal, as it continues to roil governments and élites and their advisers, around the globe. But there are far too many commentators who seem to be putting this into a 'tax' pigeonhole. Many have dubbed this "the Panama tax avoidance scandal" (or variants of this) — which reflects a profound misunderstanding of what is going on.
First, as an aside, we should probably banish this word 'avoidance' from the tax lexicon, because it's so widely misused and misunderstood (it helps use words like 'tax cheating' or 'escape' instead, to keep you out of the thorny thickets of what's legal or not.) But more importantly for today's blog, these commentators have erred when they put Panama into the 'tax' box. Tax is a subsidiary story.