The Tax Justice Network's Financial Secrecy Index ranks jurisdictions according to their secrecy and the scale of their offshore financial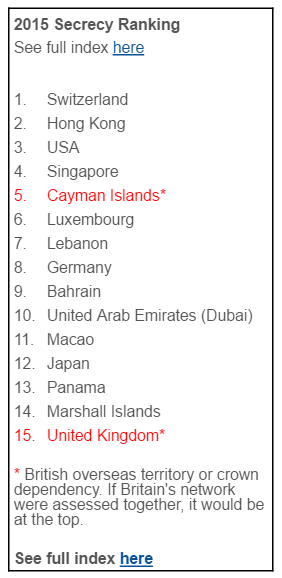 activities. It's a politically neutral ranking, the world's most effective tool for understanding global financial secrecy, tax havens and secrecy jurisdictions, and illicit financial flows or capital flight.  The Tax Justice Network is working hard on the results of the next Financial Secrecy Index.
What's coming next?
We're calling campaigners, researchers and lovers of tax justice and financial transparency to make sure you know that tomorrow, on 14th February 2017 at 14:00 CET we warmly welcome you to attend our first Financial Secrecy Index monthly call in the form of a webinar.
UPDATE:  15 February 2017, London – Bloomberg has reported that the chairman of the EU's Panama Papers inquiry has criticised the UK Treasury for refusing to meet with its investigatory team during the recent fact-finding visit to London.  Read more here.
Last year the Panama Papers scandal shook the world and lifted the lid on murky offshore dealings in spectacular fashion. The political consequences and investigations, criminal and otherwise are far from over. The European Parliament set up the Panama Papers inquiry committee tasked with investigating "alleged contraventions and maladministration in the application by the EU Commission or member states of EU laws on money laundering, tax avoidance and tax evasion." Today Bloomberg reports that the committee begins a series of 'secret fact-finding meetings' in London for two days. It has come to the heart of the beast. 

The next financial secrecy index has now reached its first big milestone with questionnaires being sent out to 112 jurisdictions.