Our Weekly Offshore Wrapper by George Turner
#OMG #AreOneDirectionHypocrites?

 
Top UK boyband, One Direction, urged their fans to lobby George Osborne the UK Chancellor of the Exchequer to keep the aid budget and crack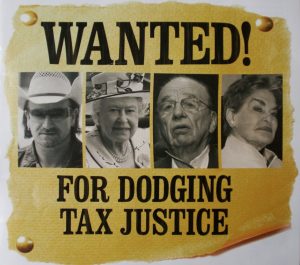 down on corporate tax avoidance.
This is, of course, very positive. 1D have 18 million fans on Twitter, which is even more than @nickshaxson.
Anyone doubting the power of 1D take note. Their tweet, asking people to sign up to a letter lobbying George Osborne was retweeted over 5,000 times.
Even the UK international development secretary, Justine Greening got in on the act thanking the boys via twitter "for backing @DFID_UK @Number10gov @hmtreasury fight vs extreme poverty & suffering worldwide."
But OMG, could One Direction themselves be aggressive tax avoiders? #awks!
Despite launched in the UK and owing their popularity to a UK talent show, One Direction have reportedly set up a company based in Ireland, a low tax jurisdiction, which could significantly reduce their income tax bill.
This probably means the multi-millionaires pay a lower rate of tax than the vast majority of their 18m twitter followers. #CheekyButLegal
Comparisons with Bono, we hasten to add, are unfair: The U2 frontman is much older and should know better.
So is tax avoidance all about faceless corporations?  Well, no one can accuse 1D or Bono of being faceless. Two faced perhaps, but certainly not faceless.
News Extra!
Another person who pays a lower tax rate than One Direction's twitter followers is Warren Buffet. The Oracle of Omaha once famously lamented that he paid a lower marginal rate of tax than his secretary. Buffet proposed the "Buffet Rule" for a flat tax on high earners to counter this. Now his company, Berkshire Hathaway, is going one step further, and paying 0% tax on the sale of its investment in company that owns The Washington Post.
Berkshire bought its stake in Graham Holdings in 2000 for $11m. It is now selling for over $1bn. But through a complex series of trades that are way too complicated to summarise in the Wrapper, the firm will not pay any capital gains tax on the deal. The Street estimates that this could save Buffet's investment firm up to $400m.
Official: you pay for corporate America's offshore cash stash
It has been well reported that tech giants use tax havens in order to reduce their tax bill. But ever wondered what they do with the cash?
The Bureau of Investigative Journalism gave us the answer last week. They make you pay interest on it.
It works a bit like this. Companies such as Apple, Google, Microsoft and Cisco move profits offshore in order to avoid tax. The government has less money. It needs to borrow in order to pay for schools, hospitals, pensions, nuclear weapons, wars, spying on their citizenry and everything else.The companies sitting on top of the giant cash piles offshore offers to loan the government some of that money.You pay your taxes, and the government uses it to pay interest to the offshore account of the companies who have loaned them the money.This is not a small problem, the Bureau's research showed that just four companies, Apple, Google, Microsoft and Cisco hold $163bn of US government debt. #galling
Diamonds are a cartel's best friend
The Zimbabwe government has slammed diamond mining companies and accused them of fleecing the country.
Accusations leveled at the industry include failing to contribute to the local economy, tax avoidance and price manipulation.
The World Diamond Centre in Antwerp has also released a report which is highly critical. It said: "Given the tokenistic payments made to Treasury since operations in Marange commenced, it is evident that there is something terribly wrong either with the way the Zimbabwe Revenue Authority is operating or the way mining contracts are negotiated."
Now when Belgians start complaining about exploitative mining practices in Africa, you know something seriously wrong must be happening.
The Mining and Development minister of Zimbabwe has hit back with a harsh response. He said he would rather shut down mining in some places rather than let companies get away with fleecing the country. This could be shaping up to be quite a fight.
Make your bin collection tax haven free
To the launch of Tax Haven Free Local Governments – a new network of politicians who wish to see local government become tax haven free. Members of the network sign up a "call" which can be seen at their website.
For fans of the OW living in the UK, you can find your local councilor here.
With local elections in just two months, this is a good time for you to ask them to join!
Related Posts